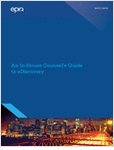 For practiced in-house counsel, managing eDiscovery can be like suddenly living in country where nobody speaks your language.
Metadata, terabytes, forensic images, slack space, email archives. For most in-house counsel, these are not terms even Webster knew existed when you were in law school, nor are you likely to use them every day in your legal practice. But for the subset of in-house counsel who manage the company's eDiscovery activities, these terms get committed to memory very quickly.
There are numerous best practice treatises and articles that outline the case law requirements, the tools that can be utilized and the overall architecture of an eDiscovery program.
And good as all of these are, what seems to be missing is the practical application of all those great principles to a profit-making entity.
This white paper offers best practices, a comprehensive maps of the eDiscovery terrain, and tips for effective eDiscovery efforts.
read more